Medical gas alarm panel SSGM-PREMIUM – premiere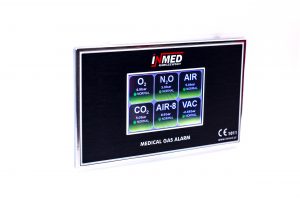 The latest model of the medical gas alarm panel will be launched today at the MEDICA 2019 International Trade Fair. This medical gas alarm panel is used to detect irregularities in the medical gas supply in medical gas pipeline systems (i.e. falls and excessive rises in pressure), warning the user with acoustic and visual signals. For easy control, the panel is fitted with a large, colour touch-screen display which can be used to adjust the layout, channel descriptions and displayed messages to meet the user's needs. The device can be recessed into a wall (flush-mounted) or mounted to the front side of other devices.
A new model developed by INMED, SSGM Premium uses advanced technologies offering a number of new functionalities e.g.: monitor medical gas state from a mobile phone or other device with an internet browser with wireless internet access. The Premium alarm panel offers high quality, reliability, safety, comfort of use, and a broad range of functionalities. For more information click on the link.