Suction regulators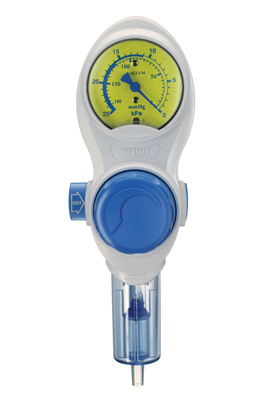 Suction regulator is a medical suction equipment enabling measuring and adjusting the vacuum level, within the context of medical suction.
We offer:
Vacusill 2HV (0-100kPa), Vacusill 2LV(0-20kPa) – HERSILL
RVTM3 (0-25 kPa, 0-60kPa oraz 0-100kPa) – TECHNOLOGIE MEDICALE
Suction regulators come with with AGA, DIN, G-01 or AFNOR probes. Contain overflowing security, hose adapter or with antibacterial filter (Vacusill type – hose adapters and antibacterial filter are used alternatively and come with overflowing security; RVTM3 type – are built into overflowing security part).
The suction regulator can be fitted:
directly to vacuum outlet
on MODURA or DIN medical rail
Accessories:
reusable jars: 1l, 1.75l, 4l
disposable jars and suction bags (producers: Serres, Monovac)
VAC hose with VAC probe
silicone hose
Producer: HERSILL, TECHNOLOGIE MEDICALE